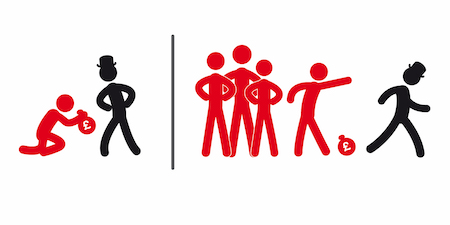 Deposit theft campaign
Since June 2017, Brighton SolFed Housing Union has been campaigning against the theft of tenants' deposits by landlords and letting agencies. Our aim was and is to stamp it out as a practice in Brighton and beyond, using tactics such as direct action campaigns to pressure agencies into returning the money they take. Anyone who has ever rented will know that landlords and agencies regularly withhold huge amounts of money from tenants' deposits, at a point when we really need that money back. If this has happened to you, you'll also probably be familiar with deductions that are either uncosted, or that are for things that the landlord should pay for, such as wear and tear. 
Deductions can be disputed via what is called the dispute resolution service, which is a part of each deposit protection scheme that mediates disputes between landlords and tenants. Each side presents evidence of their case, and then the dispute resolution service decides if they think a deduction is justified or not. 
In Solidarity Federation, we're all for tenants getting their money back however they can, so if tenants think they've got a good chance with dispute resolution, we're happy to see them get their money back. However, we do have some reservations about using it, for a number of reasons. Firstly, dispute resolution keeps the problem private, allowing agencies and landlords to hide the fact that they are attempting to take money from tenants who have already given them significant portions of their income. Secondly, dispute resolution is inherently stacked in the favour of landlords and estate agents, since they tend to have more time, money, and specialist knowledge than tenants to put towards disputes. Thirdly, tenants can only go through dispute resolution within three months of the end of their tenancy, which is not always possible for various reasons. Fourthly, dispute resolution relies on us as tenants keeping evidence of issues in our homes that it is not always realistic to expect us to have.
Instead of the dispute resolution service, in SolFed we tackle deposit deductions using direct action public campaigns. This generally involves finding ways to make the landlord or agency's attempt to make the deduction public, in order to pressure them into dropping it. We've had a number of successes in doing this since January 2016, but we are neither professionals nor a charity; we're just tenants who want to help other tenants, and who expect to be helped by other tenants. We encourage all tenants who approach us to get involved and contribute their views so that we can improve and develop through a collective process of activity and discussion.
Disputes
January 2016: a letting agency repays a tenant a £325 holding deposit following a one month campaign. The deposit to secure the flat was initially withheld after the agency messed the tenant around regarding their expectations of her guarantor, which meant she was unable to take on the tenancy. 
May-August 2016: a letting agency attempts a failed eviction process against a tenant they wrongly classify as in rent arrears. The dispute concluded after the agency offered £300 in compensation to the tenant.
September 2016: a group of tenants is returned £840 in admin fees after an agency messes around the start date of their tenancy and they are no longer able to move into the house. One of the tenants contacted Brighton SolFed for advice and was paid after they sent a single email demanding the return of the money.
February-June 2017: a tenant was organising with Brighton SolFed after his flat was allowed to deteriorate into a serious state of disrepair by both his letting agency and Brighton council. The state of the flat was particularly dangerous for the tenant because of his severe visual impairment. The dispute concluded after a short direct action campaign against the agency and the council led to an agreement was reached with the agency that the landlord would undertake significant renovation works on the flat at his expense.
August-September 2017: a group of student tenants organises with Brighton SolFed for compensation for their damp and infested flat, as well as for the return of their deposit. Following a one month public campaign against the two agencies used by the landlord, one of which is the largest student lettings agency in the city, the two agencies plus the landlord pay out a total of £6400; £3900 in compensation for the poor accommodation, and £2500 in the full return of the tenants' deposit.
October 2017: a tenant organises after having £510 deducted from her deposit for cleaning and replacing a lock, in spite of leaving the house professionally cleaned and not breaking any locks. The agency returned the deposit in full after a three week public campaign.
October 2017: a tenant approaches SolFed after spending a year without a working cooker. After brief correspondence, the landlord replaces the cooker with a new, gas safety-certified one
November 2017: a tenant organises for the return of £344 withheld from their deposit by The Property Shop, with the money successfully returned after a roughly three week campaign.
November 2017: a tenant living in sub-letted accommodation that is in a really poor condition is forced to move after a threat of violence from the sub-letter. They organised with Brighton SolFed to arrange quick transportation of their possessions and to find emergency accommodation 
December 2017-March 2018: Two different tenancies administered by the student lettings agency G4Lets approach Brighton SolFed to organise against a total of £3000 of deposit theft, and incredibly poor living conditions. A four month campaign that sees significant economic and reputational damage occur to G4Lets, who are negatively featured across numerous student media, nonetheless only leads to a £400 offer, as we suspect they were concerned that paying once would lead to an avalanche of demands for repayment. The tenants accrued a significant amount of evidence over the course of the campaign, including an Environmental Health report from the council that lays the blame for nearly all the issues they were charged for at the door of G4Lets, and so they eventually decide to pursue their dispute via the Property Ombudsman.
December 2017-ongoing: a tenant in a property administered by Youngs estate agency begins organising with SolFed after living in incredibly poor and dangerous conditions for a number of years. Following a demand to address these issues and to pay compensation for the limited functionality of his flat because of them, the tenant is served an eviction notice. In response to the ongoing campaign against this, the owner of Youngs, David Pay, assaults a SolFed member in his shop, and the son of the owner, Ollie Pay, forces his way into the tenant's flat and assaults him. The eviction is thrown out of court in June 2018, and a renewed request that the landlord negotiate an amicable resolution to the situation has been made.
March 2017: a tenant successfully organises against a £390 deduction to their deposit. Following a legal threat, the agency made a goodwill payment of £450 after a two and a half month campaign.
Taking action
If you are having trouble getting an agency to return your deposit, we have three template letters that may be useful for challenging them:
1. Deposit deduction challenge letter 1
2. Deposit deduction challenge letter 2
3. Deposit deduction challenge letter 3
Each letter challenges your agency to provide receipts for any work that they allege needs doing, as they are obliged to do, and reminds them that wear and tear is the responsibility of the landlord, which usually brings the costs down significantly.
Get in touch
If you are having trouble with an agency keeping part or all of your deposit and they are unresponive to these letters, get in touch with us to talk about other ways that you can fight back against this:
Email: housing@brightonsolfed.org.uk
Text: 07427239960
We have experience supporting tenants who have had their deposit withheld - in such cases we helped the tenants put their demands to the agency/landlord and to organise a protest campaign. We believe winning such individual cases will benefit all tenants, as it makes it harder for agencies to get away with ripping tenants off. The more that we all fight back, the harder it is for agencies to exploit us in this way!