Brighton Solidarity Federation Housing Union is a group of people working together to improve our living conditions in the here and now. We're not legal experts or housing specialists - we're just ordinary people who want to improve our housing situations. We want to build a strong movement so that together we can challenge the extortionate rents and agency fees, and use direct action and self-organisation to put a stop to the scams, swindles and tricks of landlords and letting agents.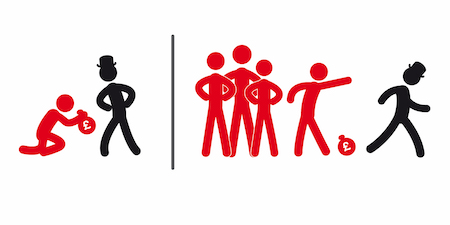 We are currently campaigning against deposit theft. Anyone who has ever rented will know that landlords and agencies regularly withhold huge amounts of money from tenants' deposits, at a point when we really need that money back. The 'Deposit Theft' section of the site has three useful challenge letters for if this has happened to you, asking your agency to provide receipts for any work that they allege needs doing, which usually brings the costs down significantly.
If you are having trouble with an agency keeping part or all of your deposit, you can get in touch with us at housing@brightonsolfed.org.uk to talk about other ways that you can fight back against this. We have experience supporting tenants who have had their deposit withheld - in such cases we helped the tenants put their demands to the agency/landlord and to organise a protest campaign. We believe winning such individual cases will benefit all tenants, as it makes it harder for agencies to get away with ripping tenants off. You can read about the build-up to these successful anti-deposit theft campaigns here, here, and here, and about the victories that they resulted in here.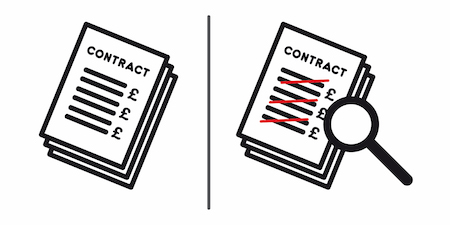 We are also currently running a campaign against agency fees, encouraging tenants to challenge their validity, using our template challenge letters if they would like to, which asks the agency to offer an itemised breakdown of each fee in accordance with the Consumer Rights Act of 2015. We think that the more tenants who challenge the validity of their agency's fees, the more pressure they will be under. The government has said that they are going to ban agency fees. Many of us can't afford to wait until they do, and so we're encouraging tenants to collectively organise to pressure their agencies to drop their fees now.
If you do decide to challenge your agency on a particular fee or fees, you can join the Brighton SolFed Housing Union Facebook Group to search for other tenants from your agency who might wish to do the same. If you're not on Facebook, send us an email at housing@brightonsolfed.org.uk to let us know if you do challenge them, and we'll try to link you up with other tenants with the same agency so that you can talk about how to keep the pressure up after the initial challenge. 
The 'Stuff Your Landlord' section has basic information on your landlord's obligations to you – that they must place your deposit in a protection scheme, that they must give 24 hours' notice for a visit and so forth.
We know that there are many more problems in housing than deposit theft and agency fees. We are currently developing sections on problems with damp and mould and on housing suitability assessments, as well as some information on Right to Rent, too. In additions to the sections we currently have, we also have an 'Agency Fees Spreadsheet', where you can see which agency has the most expensive set up fee, the most expensive contract renewal fee and so forth.