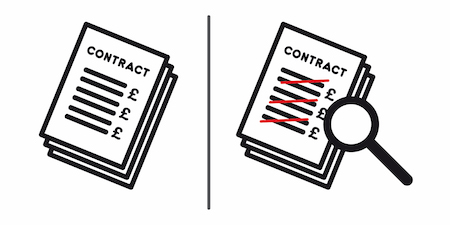 Expensive clauses
Tenancy agreements often include expensive clauses for things such as the inventory of the property, having the property professionally cleaned when you leave, and for various 'administration' tasks such as setting up your tenancy, renewing your contract, and 'checking in' and 'checking out' of your tenancy. Letting agents should clearly display all of their fees on their website and in their offices, though they are often hard to find, so it's worth asking for a breakdown of them early in the process. To varying degrees, all of these fees can be disputed before you sign the contract.
As of 2017, the government have said that they will pass a bill that bans agency fees. Such a bill will have to get through a parliament of landlords, as well as withstanding the pressure applied by organisations such as the Association of Residential Letting Agents, which will undoubtedly be fighting for it to be watered down or even scrapped. Besides, many of us cannot afford to wait for this bill to possibly be passed; many of us are having to navigate the private rental sector now, borrowing money we don't have to pay fees we can't afford to move into accommodation not fit to live in. We also think that it's better for tenants to empower themselves to demand an end to things such as agency fees, as this begins to shift power in our favour in the long run.
Challenging agency fees before you move in: a timeline
If you are moving into a new place, it can be difficult to know exactly when to challenge an agency on their fees. The timeline for doing it that we've put together below is not a hard and fast set of rules; it's just something that we as tenants have had some success with in the past:
1. Find a place you like and pay your holding deposit/agency fee
2. Ask the agency to send you a draft copy of the tenancy agreement that you will be expected to sign
3. Read through the tenancy agreement looking out for fees such as paying for a professional inventory, paying for a professional clean, and various agency fees such as contract renewal, 'check in', and 'check out'
4. Ask the agency – or look on their website – for their list of fees, in case they aren't specified in the tenancy agreement
5. Pay your deposit and one month's up-front rent
6. At least a week before you are due to move in (giving time to negotiate, and before you have signed the agreement), challenge the agency to remove the fees you have found in the agreement, using the following template letters: 
1. Agency fee challenge letter 1
2. Agency fee challenge letter 2
3. Agency fee challenge letter 3
In terms of the specifics of challenging different types of fee, below is some more information that you may find useful to include:

Having to pay for a professional inventory at the end of a tenancy
Although such a clause is entirely legal, letting agents / landlords often don't draw the contents of this clause to the attention of tenants before they sign. Tenants can thus often find themselves paying for an inventory check from a company that are aligned with the letting agent themselves. It is worth establishing what the likely costs are for the inventory at the beginning of the tenancy, and asking for the clause to be removed if you are not provided with a formal inventory on entry to the flat (why should you pay for an inventory check on exit if you are not provided with one when you enter the flat?) Payment for inventory charges should be shared equally with the landlord, otherwise this might constitute an unfair clause in the tenancy agreement. You can ask the agency for a breakdown of inventory charges and check that these are split between you and the landlord.

Having to pay for a professional clean (often by a cleaning company recommended by the letting agent / landlord) at the end of a tenancy
You can ask for this to be removed from the tenancy agreement. There is no legal requirement for tenants to pay for a professional clean (however, landlords may insist upon it - it is yet another example of the weak bargaining position that tenants often find themselves in). If the agency won't remove the clause, you can ask them to amend it to say that you will be charged for a professional clean if the property is not left clean to a 'professional standard' when you leave. This would allow you to clean it yourself. Alternatively, if you can't get it removed or amended, you can request that you administrate the professional clean, rather than just having to pay a sum of money at the end of the tenancy for it, and that you will provide an invoice as proof of the work. Agencies will usually accept an invoice from a convincing-sounding cleaning company without further checks.

Administration fee for setting up your tenancy (such as for setting up your tenancy, renewing your contract, 'checking in' and 'checking out')
Ask the letting agent what the fee for setting up your tenancy covers. For example, if they suggest that it covers the cost of protecting your deposit, then this contravenes relevant guidance from the government. By this point, however, you likely will have already paid the agency administration fee – it's a hard one to challenge, as securing a place is usually dependent on paying it. However, you can ask for an itemised breakdown of the administration fee, and if they claim that part of the cost is protecting your deposit, you can point out that this is illegitimate and insist on a refund of the amount of the fee that they attribute to this cost.
Ongoing tenancy fees (such as for setting up your tenancy, renewing your contract, 'checking in' and 'checking out'
Agencies also charge for all sorts of other 'activities', including renewing your contract, 'checking in' to a property, 'checking out', moving in on a Saturday, swapping a tenant over; you name it, they'll charge for it. These fees will either be in your contract, or listed on the agency's website.
You can challenge these fees by asking for an itemised breakdown of them. Legally, agency fees are covered by the Consumer Rights Act 2015, which states that agencies must provide tenants with an explanation 'that is sufficient to enable a person who is liable to pay it to understand the service or cost that is covered by the fee or the purpose for which it is imposed'. This means that you can ask an agency to provide you with a costed, itemised breakdown of each fee. What costs, exactly, are involved in an £80 contract renewal fee, you can ask. Without these itemised costs, you are arguably unable 'to understand the service or cost that is covered by the fee or the purpose for which it is imposed', particularly given how significantly fees vary between agencies. Why, you might point out, does contract renewal cost £80 with some agencies, when others don't even charge for it? You can use our challenge letters challenge these fees:
 
1. Agency fee challenge letter 1
2. Agency fee challenge letter 2
3. Agency fee challenge letter 3
Agencies will almost certainly be resistant to all of these challenges. In our experience, perseverance is key. At a certain point, the administrative cost of responding to you becomes greater than the cost of giving in. There's also no guarantee of success – an agency may just remain stubborn to your challenge. However, the more of us who do this, the harder that will be for them. If the won't back down, a group of tenants complaining to the Property Ombudsman that the fee in question is not very clear would likely take up more of the agency's time, amd might make them give in. You can find other tenants with your agency by joining the Brighton SolFed Housing Union Facebook Group, or by sending us an email at housing@brightonsolfed.org.uk if you're not on Facebook, or by texting 07427239960. 
Challenging an agency when you're already in a contract
If you are already in a tenancy agreement with lots of erroneous fees included, then any dispute with your letting agency or landlord about these needs to be carefully considered. Here's some things you can do to help you through:
- Find out exactly what fees are included in your tenancy agreement or with your agency
- Think about whether the agency has behaved neglectfully in any way over the course of your tenancy, as you could use this as leverage to argue that certain fees should be waived to compensate this neglect
- Think about whether you, or you and your housemates, would feel comfortable to ask for these fees to be removed when you next renew your contract. You can find template letters to begin this process here:
We think all of these activities – challenging agencies on their fees, complaining about them – are more effective when done en masse. It makes us feel confident that we're not alone, it gives the agency more work to do, and it lets the agency know that we as tenants are fighting back. If the agency is totally resistant to your challenge, you could always pursue a complaint against them – first via their internal complaints procedure, and second via the Property Ombudsman. We think this can be a useful thing to do not because it will necessarily force them to change their mind, but, again, because they might get so fed up of all the admin it generates that they give in.
Perhaps you can challenge the agency along with the rest of your housemates, or perhaps you can put a callout to try and find other tenants with your agency who might want to join you in challenging them. We know this can seem daunting – if you're thinking about doing it and would like our support, you can get in touch with us at housing@brightonsolfed.org.uk, or on 07427239960. Even just five tenants from the same agency challenging something like a contract renewal fee is going to create problems for them. You can also find other tenants with your agency by joining the Brighton SolFed Housing Union Facebook Group.
Direct Action
Beyond challenges and complaints, it sometimes requires added pressure for a letting agency or landlord to accept their responsibilities. If the agency refuses to drop the fee you are challenging, one way to keep the pressure up on them would be to take Direct Action. This could mean:
- Delivering a demand letter to the letting agency, or to the landlord's home or work address
- Picketing the letting agency
- Contacting the local press about your dispute
- Publicly 'outing' the landlord to their neighbours
- Bombarding their telephone or email inbox
- Occupying your letting agency
These are just examples. Anything that gives you leverage over your letting agency or landlord works; challenging their reputation or hitting them in the pocket is advisable.
As tenants, we know that agencies exercise a lot of power over us and our living conditions, and that starting such a campaign against your agency could seem risky. If you were interested in doing this, such a dispute would not need to be directly associated with you. We could issue the demand letter from Brighton Solidarity Federation, and we could conduct the actions collectively, with you choosing the level of participation in those that you were comfortable with.
All of these actions are best taken in conjunction with your family and friends, or – even better – other tenants!
To get in touch, contact us at housing@brightonsolfed.org.uk, or on 07427239960