Reports circulating on Twitter suggest Tory MP for Hove and architect of the recently passed anti-squatting law, Mike Weatherley, has been chased from campus by angry students. Weatherley had been due to address the university Conservative Society.
---
The following quotes are sourced from Twitter:
"Lol. Scumbag Weatherly [sic] fled"

"Mike Weatherley chased off #sussexuni campus #scum #squatting #wewon"

"Can anyone at Sussex uni Weatherley protest let me know what's happening pls? Stupid work means I'm at work."

"Better he flee in fear. Apparently he actually ran."

"Apparently Mike Weatherley was attacked with rocks outside Sussex Uni and has now cancelled his talk. Coward."

"Weatherly saw a bunch of students and ran for his life. He's locked in a room on campus, the filth have shown up to carry him away."

"Also, apparently someone hit him."

"According to a source, Mike Weatherley was 'literally chased away by the black block just outside campus'! Woo hoo!"

"couldn't go cos stupid work, but that has cheered me up quite a lot"

"Weatherly's attempt to seek refugee in a building on campus has failed and he was bundled into a police van, terrified. #squatting"

"I was actually homeless when I was teenager, squatting gave me a roof etc, was safe(r)"

"One of the funniest things I've ever seen."

"Squatters 1: Tory party nil."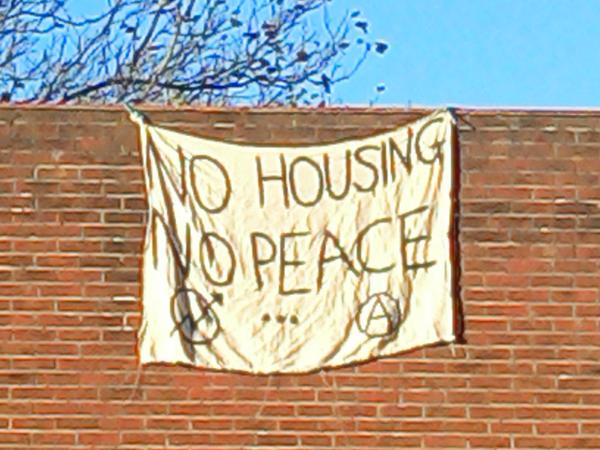 Weatherley's anti-squatting law, pushed through amidst a barrage of lies and disinformation about squatting, abolished the centuries-old right to squat in abandoned residential buildings. With rising fees and living costs, squatting has been a way of saving money for many poorer Sussex students. The criminalisation of squatting comes despite a mounting housing crisis in the city. As of 2011, empty residential properties in Brighton and Hove outnumbered homeless families 10:1, yet in the eyes of the state, the interests of buy-to-let landlords and property speculators clearly outweigh the needs of homeless families.